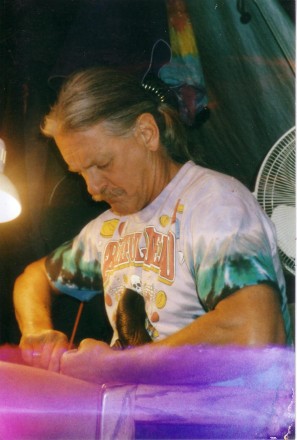 Hi, I'm David Peek. I grew up in Sacramento, California. In 1972 while working at Tower Records, at 16th & Broadway in Sacramento, my Volkswagen mechanic came into Tower to visit me with an incredible pair of moccasins on. He had gotten his mocs from a moccasin maker named Paul Merriam. I was so impressed I went to find this guy and after several twists and turns in the road I ended up with a pair from Scott Taylor of Walking Liberty Moccasins. Scott made me several pair of incredible, comfortable moccasins.... I soon decided I wouldn't wear anything else. In 1973 Scott offered to teach me how to make moccasins and I began an apprenticeship with him. At this time I was lucky enough to hang out with Scott, Hank Zander and Paul Merriam. We spent many hours together fine tuning the art of making these moccasins and to this day remain close friends.

After a few years making mocs in Sacramento I moved to Tahoe City, California where I met Penny Lou Torbert in 1976. This was the defining moment of my life. Penny was making custom sandals and had a pair of moccasins from Ron Compton, who made mocs in Santa Cruz. Penny and I fell in love and began making shoes together. Penny made sandals, bags earrings and virtually anything out of leather while I concentrated on making moccasins. While in Tahoe we had stores in Tahoe Park (the Watermelon Patch), Tahoe City (Next door to Joby's records), Kings Beach (in High Altitude Conspiracy) and finally on the highway in Carnelian Bay. In 1993 we moved to Eugene, Oregon. We participated in the Eugene Saturday Market and joined the "Circle of Hands", a local artists co-operative in our early years in Eugene. We then began doing high end arts & crafts shows. We now travel from Seattle,Washington to Santa Rosa, California and east to Boise, Idaho each summer doing what we love. In 2006 we realized a lifelong dream and purchased a 1958 Greyhound Bus. We have converted it into a rolling leather shop and home. It has all the amenities kitchen, living room, bathroom with shower and bedroom. It has 5 solar panels on the roof and everything runs off solar energy. We someday hope to live in our bus and make our products as we travel anywhere we wish.

I'm so lucky to be able to spend my life with the woman I love making moccasins. I literally can't wait to get up each day and have so much fun making new friends and shoes for their feet. I've become lifelong friends with many of my customers... it's fantastic. After making your mocs I will include with your new mocs your original tape pattern and the cardboard pattern I made. These are yours to keep in case you ever need new wool inserts, new soles or another pair. Along with your new mocs I'll include detailed directions on how to put your new mocs on the first time and how to take care of them. If you follow my directions and wash your mocs regularly they can last you many, many years. When the time comes for a complete "retune" I will be there to help you out. If a lace breaks I will send you a new one free. I stand behind my work, if something goes wrong with your mocs I will fix them free of charge, as long as you have maintained them according to my directions. There's no time limit on this, but if you don't take care of them there's no way I can offer this guarantee, either, so how well you maintain your mocs will ultimately affect how long they last. No matter what happens to your mocs I can fix them...even if your dog chews one up I can fix it. Repairs due to negligence or some horrible accident will cost you, though.